Being Colorful Isn't Tacky
Disclaimer: The fact that I truly don't give two flying fadoodles....with that being said, there is most definitely profanity in this piece. It's needed for context and for YOU (the readers) to fully grasp how TF I'm feeling. This may NOT be the reading for you. You always have the option to skedaddle.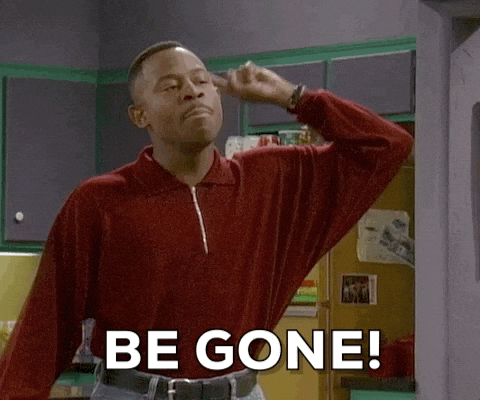 True Story. True Story. The name used in here is fictitious AF however it does reflect a true experience with a real person. Just thought I'd address the elephant. You know the rest.
Many moons..heck galaxies ago Friday was dress down day. Now typically the deal was that everyone would wear jeans and a tee/polo but I decided to wear something else. On this sunny and dry day, I was creative AF. I had this cute shirt hanging up in my closet and I was waiting for a Friday to wear it. You'll understand why in a sec. I wore an aqua capri pant with the creases ironed in them. Them creases were crisp AF. Anyway I had on a sandy colored Sperry. Lastly, I wore a coral tee with white thin stripes which read "It's FriYay" across the front of the shirt. Yep! I was waiting and this was the time. I was happy AF. Cheesing and shnit. So to tie the whole look together I decided to go with a colorful glass beaded necklace that conveniently and strategically had all the colors I was wearing in it. It was genius! I must say so myself. The look reminded me of the beach. Get it? Aqua ocean, sandy sand and coral reef. Yep Yep.. I was elated as a MF. It was perfect, classy, my version of a dress down and most importantly it was fun. I was having a great day until Big Mouth, lets address him as Latrell just for kicks... decides that he doesn't like what I'm wearing so he uses the word "Tacky" to describe me. Now let me lay out this interaction for you. I was walking from my desk on the other side of creation. From the little bitty corner with some papers that I had just printed out and saw Latrell as I was walking past to hand deliver to someone on the other side. I said "Hey Latrell, how are you. You look nice today." Instead of a simple thank you. This MF says "what is that you're wearing" with a little SASS in his voice. I told him about my look. Why TF not. He responds "that is tacky." Latrell was a quote on quote "pretty boy" (he was in his late 20's…calm down Karen) and a wanna be. He thought so much of himself when in actuality he was jealous especially when he felt threatened. I don't know how or why. I'm the nicest and most genuine person you will ever meet in your lifetime. Not to toot my own horn or anything.
He proceeds to call me tacky then has the nerve to bring someone in on our conversation. His hope was that they would side with his decision to belittle me. Belittle me by using such an insulting word. I saw it in her eyes. She tried to play it safe as I am noticeably a big woman. Plus she's not stupid. She answered NO because it's dress down day. It looked fine but it wouldn't have been appropriate for a regular day. No shnit Sherlock but you do realize that you just agreed with the MF. Do you understand that? Sisterhood, my ass. However, I wasn't tripping because its okay to feel how you want. Everyone is entitled to their own opinion. Mind you. This is the shnit I want to say but I don't. I have respect for people's feelings. Well sort of. Don't test my gangsta then you won't get your feelings hurt. Let's rewind back to this word "Tacky." The question I posed with the knucklehead was would it still be considered "Tacky" if I wasn't "on the bigger side". He couldn't answer the question. In fact, he changed the entire conversation and started...well he attempted to attack my intellect. He asked a dumb question which lets say I shut that shnit down and embarrassed the heck out of him. Granted, he was fully DESERVING of that DISRESPECT...He got offended and walked away. I'm not there anymore as it was a short project. I met a lot of great people and learned so much however I did NOT appreciate...